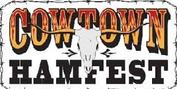 HAM RADIO EXPERIENCE
COWTOWN HAMFEST
AND ARRL NORTH TEXAS SECTION CONVENTION, JAN 20-21, 2023.
FRI 3PM-7PM AND SAT 7AM-3PM.
VENDORS MAY SET UP AT 10:00AM FRI AND 6:00AM ON SAT. MANY OF OUR VENDORS WILL BE RETURNING THIS YEAR. WE HAVE INVITED A SELECTION OF NEW VENDORS WHICH WE HOPE WILL BE COMING. QUALITY VENDORS OF HAM GEAR MAKES THE DIFFERENCE IN A GREAT SHOW!
COWTOWN HAMFEST WILL BE HELD AT FOREST HILL CIVIC AND CONVENTION CENTER  DIRECTIONS
6901 WICHITA STREET FOREST HILL, TEXAS 76140
TALK IN 146.94 TONE 110.9